A mixed reality media installation
---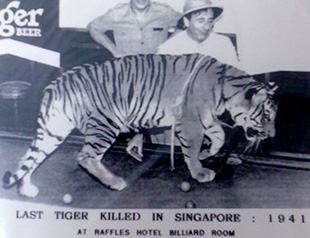 ---
* As stated in the photos caption, the last living tiger, in the Raffles Hotel. Confusion reigns over whether the Tiger was killed in the Hotel or at Bukit Kimah. Photographed poster found in the tuorist shop in the Peace Center, Selegie Road, Singapore.

According to the Raffles Hotel web page, "Legend has it that he worked all morning under a frangipani tree in the Palm Court, turning the bits of gossip and scandal overheard at dinner parties into his famous stories. Indeed, Maugham was a famous diarist, known for composing brief sketches on-the fly based on the various bits of social intrigue taking place around him. He eventually published all of these diary entries in two collections, A Writers Notebook (1949) and The Writer's Point of View." (1951)(source: Raffles Hotel Website)


The impetus of the narrative in this project comes from the large number of tales and urban legends that have come to collect around the famous Raffles Hotel in Singapore. These stories include certain confusing renditions surrounding the creation of the "Singapore Sling" and other stories that are drawn from famous persons that frequented the Hotel. One of the stories tells of the slaying of the last living tiger in Singapore within the Hotel itself. The image left is a photograph that purportedly shows this event. The nature of the composition and the elements in the photo leads one to suspect the image is concocted and totally unreal. These urban legends are one referential source for the narratives created for this project.
---
Background information on the central characters:

W. Somerset Maugham, (1874 - 1965) the novelist and playwright, traveled extensively throughout Asia, including Singapore and the Malaysian Peninsula. Maugham used his travels as fodder for his writing, often setting his work in Malaysia and Singapore Maugham's visits to Singapore are perhaps most famously celebrated by the Raffles Hotel, who have used his stays in thier marketing by referring to his claim that the hotel"stands for all the fables of the exotic East," and have named one of their suites for him." The hotel also has a "writer's room," a tribute to the famous writers over the years who have stayed at Raffles (including Maugham, Joseph Conrad, Rudyard Kipling and Noel Coward).
---